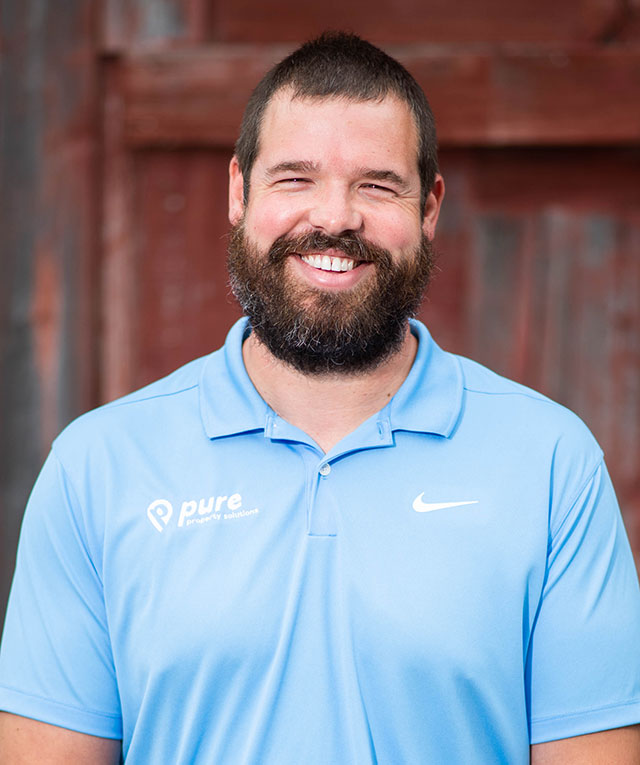 Meet Thomas
President
Thomas Ellison joined PPS in 2017 after ten years at Sherwin-Williams. He started in the industry while he attended Miami University working for a family business pressure washing, staining decks, and painting homes and apartments in the summer months.
When he graduated with a Bachelors' in Business Finance, he entered the Management Trainee Program at Sherwin-Williams. He worked in a management role at several locations and most recently as a paint representative to the multi-family and commercial industry in greater Cincinnati. Thomas is an associate member at the local Apartment Associations, GCNKAA and GDAA. He serves on the GDAA Board of Directors and the Maintenance Education Council.
Thomas married his high school sweetheart and has four daughters, Emma, Elizabeth, Eden, and Ella. He is a Trustee ("once a Trustee always a Trustee") at First Baptist Church in Hamilton. He spends his free time reading, playing board games, and working on his farm near Oxford.
Fun Facts!
Favorite Book – Animal Farm
Favorite Saying/Quote – You will be the same person 5 years from now except for the people you meet and the books you read.
Favorite Movie – Ben Hur
Favorite TV Show – Mad Men
Favorite Musical Artist – Jake Owen
Meet the Rest of the Team
Testimonials
Chris and his team were awarded a contract to provide masonry work on a property that I manage. They did a wonderful job and the owners were very happy with their work. If there were any items that missed or not completed, he returned without hesitation to complete them promptly. I highly recommend Pure Property Solutions for masonry work.
Pure Property Solutions is always a pleasure to work with, they offer competitive pricing and respond effectively to all my requests. PPS is my "go-to" contractor!
Whenever we have a tough job that requires a thoughtful solution, we call Thomas at Pure Property Solutions. He works very hard to tailor a cost-effective solution that meets our needs! PPS has become a trusted, preferred vendor to the PLK family of properties!
Matt Weis
COO PLK Communities
I have been working with Pure Property Solutions for about a year now. The team never lets me down. They have been involved in over a dozen projects in multiple states. Currently, we are working on a 200 thousand dollar roofing project in IL and I am excited to see the final product. Chris always returns my calls the same day and on multiple occasions has helped me out in a pinch.
I have used Pure Property Solutions for a few years on our commercial and on my own personal property. Their prices are always competitive and their work as always exceeded my expectations
Ready to Get Started?
We're ready to show you how we can help with all of your property needs. Reach out today to schedule your free estimate!
Get Your Estimate