Become the leader in our industry, participate on the projects that will shape tomorrow's world, being known externally for quality and integrity while internally maintaining profitability and employee satisfaction.
We make it a point to understand the needs and wants of our clients and it shows. Over 80% of our business is generated by either repeat clients or customer referrals because of our talented team.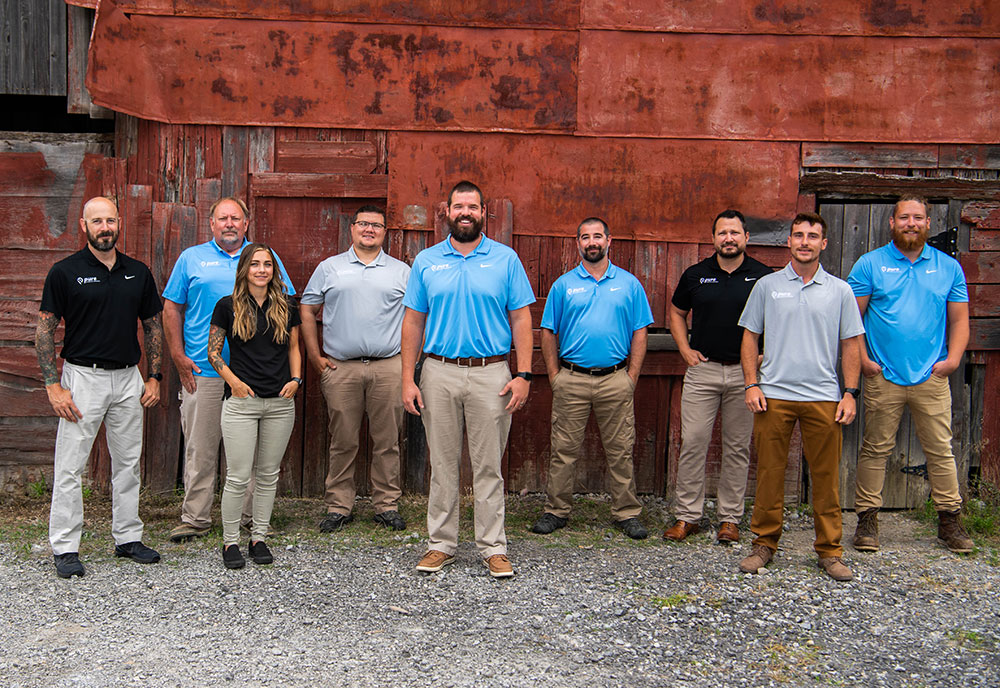 Thomas Ellison
President
Thomas Ellison joined PPS in 2017 after ten years at Sherwin-Williams. He started in the industry while he attended Miami University. He worked for a family business, pressure washing, staining decks, and painting in the summer months. When he graduated with a Bachelors's in Business Finance, he entered the Management Trainee Program at Sherwin-Williams. He worked in a management role at several locations and most recently as a paint representative to the multi-family and commercial industry in greater Cincinnati. Thomas is an associate member at the local Apartment Associations, GCNKAA and GDAA. He serves on the GDAA Board of Directors and the Legislative Committee.
Thomas married his high school sweetheart and has four daughters, Emma, Elizabeth, Eden, and Ella. He is a member of the Trustee and Building Committees at First Baptist Church in Hamilton. He spends his free time reading, playing board games, and working on his farm near Oxford.


Stephanie Whetstone
Office Manager
Stephanie is a Graphic Design graduate of Bradford and is currently pursuing an associate degree in Accounting at Sinclair. After spending 5 years as an assistant manager for a retail chain she decided to make a career change to better suit her family's needs. Stephanie enjoys home crafts, gardening, and animals. When not creating, she enjoys spending time outdoors with her husband, Josh, and their two sons, Oliver and Anakin.
Jeremy Bailey
Columbus Area Manager
Jeremy Bailey resides in Beavercreek with his wife Nikki and two wonderful children, Hunter and Stella. He is an avid Buckeyes fan, who enjoys spending time with his family in the great outdoors. He joined Pure Property Solutions in 2018, bringing with him with a diverse background of labor and skilled trades. Jeremy specializes in customer service and prides himself on helping COA/HOA managers and multi-family communities better serve their property's needs. Jeremy is a member of CAI Columbus and CAI Ohio Valley and serves on the CAI Ohio Valley Golf Committee. Jeremy has managed many projects for top companies in Columbus, Cincinnati, and Dayton and looks forward to making new relationships in those markets.


Trey Hollmeyer
Production Manager
Trey Hollmeyer joins us after several years of property management in the high-end apartment space. He's had been working in and around the property improvement business since the summers of his high school years. Trey brings extensive knowledge and experience in both management and operations. Trey currently resides in Sycamore Township of Cincinnati. When he's not on the job site you can find him out fishing the lakes of Ohio and Kentucky.
Tony Cumella
Commercial Sales Associate
Tony Cumella is a devoted husband and father of two boys, ages 5 and 8. He joined Pure Property Solutions in 2019 bringing with him over 15 years of business experience. Tony has worked in many different business environments, spanning from motorcycle finance with Harley Davison Buell to BMW Financial Services Group, where he held multiple positions that helped shape his business/customer-focused mentality. Tony is also the Board President of a philanthropic non-profit 501(c)(3) organization, which has raised over 100k to help local community children- based charities. Tony's main objective is to best understand his customer's needs while balancing a strong business focus that is beneficial for everyone involved.


Phil Miller
Project Engineer
Philip Miller is a Project Engineer and has worked with Pure Property Solutions since 2019. Phil specializes in complex projects that require building permits and inspections. Phil currently is the company safety manager. Phil graduated from The University of Missouri in Kansas City with an engineering degree. In 2008 Phil obtained his LEED AP certification. Phil has 30 years of construction experience ranging from working as a steel erector and crane operator, Consultant Engineering and sales engineer manager. Phil is a mentoring force in the workplace and uses his vast construction experience and knowledge to teach others how to work smart and succeed. Phil is blessed daily by his wife and their five grown kids and four grandchildren. In his free time, Phil likes to play golf, fly fish, and going camping with his wife.
Gage Stephens
Field Technician
Gage brings experience from multiple trades such as auto collision, excavation, light electrical, machine operation, and indoor and exterior repairs. He volunteers at a non-profit urban farm. His hobbies include playing guitar, singing, camping, fishing and enjoys spending time with family and friends.


Jordan Allen
Field Technician
Jordan Allen comes to us with 15 plus years in the construction industry. He currently resides in Okeana, Ohio. He loves being outdoors; camping, mountain biking and kayaking. He is also a huge Reds and Bengals fan. Jordan prides himself on being a team player and very motivated to succeed with Pure Property Solutions.
Derek Kidney
Field Technician and Project Manager
Derek resides in Westwood, outside of Cincinnati, with his expecting wife, Tracea, and his 3 year old, Caleb. He has run a family business, handling the trucking and logistics for Major League Baseball in Cincinnati, since 2004. Derek is an avid baseball fan, enjoys watching hockey and going snowboarding in the winter, along with hiking, camping, kayaking, and being outdoorsy in the summer. His background consists of a wide range of experience in the skilled trades, while working with the Cincinnati Stage Employees since 2004. Derek joined the team in April of 2021 and brings versatility and a desire for problem solving to Pure Property Solutions.

Testimonials
Chris and his team were awarded a contract to provide masonry work on a property that I manage. They did a wonderful job and the owners were very happy with their work. If there were any items that missed or not completed, he returned without hesitation to complete them promptly. I highly recommend Pure Property Solutions for masonry work.
Pure Property Solutions is always a pleasure to work with, they offer competitive pricing and respond effectively to all my requests. PPS is my "go-to" contractor!
Whenever we have a tough job that requires a thoughtful solution, we call Thomas at Pure Property Solutions. He works very hard to tailor a cost-effective solution that meets our needs! PPS has become a trusted, preferred vendor to the PLK family of properties!
Matt Weis
COO PLK Communities
I have been working with Pure Property Solutions for about a year now. The team never lets me down. They have been involved in over a dozen projects in multiple states. Currently, we are working on a 200 thousand dollar roofing project in IL and I am excited to see the final product. Chris always returns my calls the same day and on multiple occasions has helped me out in a pinch.
I have used Pure Property Solutions for a few years on our commercial and on my own personal property. Their prices are always competitive and their work as always exceeded my expectations
Ready to Get Started?
We're ready to show you how we can help with all of your property needs. Reach out today to schedule your free estimate!
Get Your Estimate