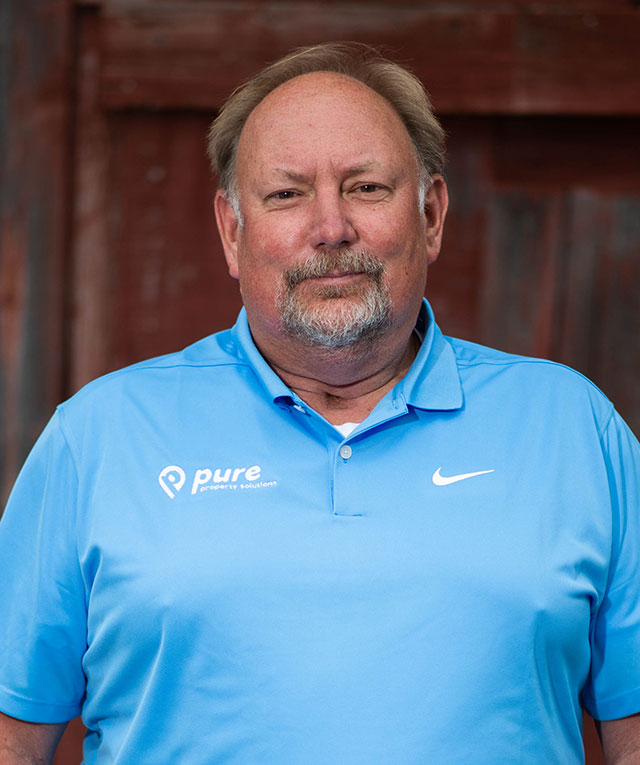 Meet Phil
Project Engineer
Philip Miller is a Project Engineer and has worked with Pure Property Solutions since 2019. Phil specializes in complex projects that require building permits and inspections. Phil currently is the company safety manager. Phil graduated from The University of Missouri in Kansas City with an engineering degree. In 2008 Phil obtained his LEED AP certification. Phil has 30 years of construction experience ranging from working as a steel erector and crane operator, Consultant Engineering and sales engineer manager. Phil is a mentoring force in the workplace and uses his vast construction experience and knowledge to teach others how to work smart and succeed. Phil is blessed daily by his wife and their five grown kids and four grandchildren. In his free time, Phil likes to play golf, fly fish, and going camping with his wife.
Fun Facts!
Favorite Book – Lord of the Flies
Favorite Saying/Quote – "You miss 100% of the shots you don't take."
Favorite Movie – Last of the Mohicans
Favorite TV Show – Wild Kingdom
Favorite Musical Artist – Tom Petty and the Heartbreakers
Meet the Rest of the Team
Testimonials
Chris and his team were awarded a contract to provide masonry work on a property that I manage. They did a wonderful job and the owners were very happy with their work. If there were any items that missed or not completed, he returned without hesitation to complete them promptly. I highly recommend Pure Property Solutions for masonry work.
Pure Property Solutions is always a pleasure to work with, they offer competitive pricing and respond effectively to all my requests. PPS is my "go-to" contractor!
Whenever we have a tough job that requires a thoughtful solution, we call Thomas at Pure Property Solutions. He works very hard to tailor a cost-effective solution that meets our needs! PPS has become a trusted, preferred vendor to the PLK family of properties!
Matt Weis
COO PLK Communities
I have been working with Pure Property Solutions for about a year now. The team never lets me down. They have been involved in over a dozen projects in multiple states. Currently, we are working on a 200 thousand dollar roofing project in IL and I am excited to see the final product. Chris always returns my calls the same day and on multiple occasions has helped me out in a pinch.
I have used Pure Property Solutions for a few years on our commercial and on my own personal property. Their prices are always competitive and their work as always exceeded my expectations
Ready to Get Started?
We're ready to show you how we can help with all of your property needs. Reach out today to schedule your free estimate!
Get Your Estimate